When:
January 28, 2023 @ 9:00 am – February 2, 2023 @ 4:00 pm
2023-01-28T09:00:00-04:00
2023-02-02T16:00:00-04:00
Where:
Delta Beauséjour, Moncton
750 Main St
Moncton
NB E1C 1E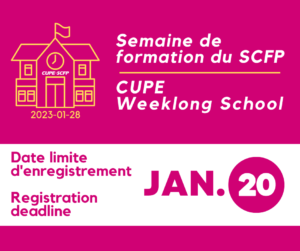 CUPE Maritimes is excited to announce a weeklong school for all members in NB and PEI in person! We are happy to provide a new process where you get to select the workshops that you want to attend, so please make sure to follow the instructions!
Twice daily breaks will be provided .*Note – the Financial Officer Workshop will be the only course that will last 5 days.
This weeklong is meant to be flexible to accommodate all members, so you can join us for the 5 days, or sign up for individual sessions that are listed below.
*There is limited registration for this event and a registration fee of 100$ per session  or 300$ for the week
* Registration Deadline is January 20th, 2023. For Registration click here
Special Info: We have a special rate negotiated with the Delta Beausejour for $169 a night, this rate expires on: Saturday, December 24, 2022! Click here to reserve online and Book your group rate for CUPE Conference 
COVID POLICY: We want to ensure that our event is as safe as possible, and we will be following CUPE's COVID protocols.
Here are the key protocols for all CUPE events:
Masks are mandatory during the events, even when sitting down in the meeting room.
If you are not vaccinated, you are required to test daily and ensure that you test negative before joining the meeting.
Check your symptoms daily if you have any COVID symptoms do not attend the meeting.