Board Members
President: Leonard Gallant - lgallant@cupe.ca 
Leonard Gallant started as a shop steward in his Local 1779 shortly after starting his job in1999 as a carpenter at Pch, a few years later became president of his Local and also became the Health West representative on Division, In May of 2018 he became Vice President of Division then in 2019 was elected as CUPE PEI President. Leonard is also President of the Provincial Health Council, and is the Regional Vice President for PEI
Vice-President: Karen Tsistinas - karentsistinas@hotmail.com
Karen has worked as an Administrative Assistant with the PSB for the past 16 years.  Currently, she holds the position of President of Local 1770 which represent PSB Administrative Support Staff, FLSB Administrative Support staff and support staff of PEITF and Federation of Labour.  Karen also is the Vice President of CUPE PEI and has been appointed to sit on the PEI Labour Board.  Some past committees she sat on are the CUPE National Child Care Working group and most recently was co-chair of the CUPE National Resolutions Committee for the 2019 National Convention.   Karen is the mother of 4 grown children and 8 grandchildren and resides in Mermaid.
Secretary-Treasurer: Linda Jones – lmjones@edu.pe.ca
Linda is a member of CUPE Local 3260. She works at Hernewood Intermediate School in West Prince as an Educational Assistant. She has been a CUPE member since 1998, and her CUPE activism began in 1999. Initially, Linda served as VP for CUPE Local 3260 for 3 years. This was followed up as Treasurer for 8 years and then served as President and Past President for 7 years. She continues to serve as a Trustee and Pension Representative for Local 3260. Along with the service to the local, Linda is currently CUPE PEI Division Treasurer and has held that position for the past 9 years. Linda has been trained as a Member Facilitator and continues to be involved with the CUPE Schools offered on PEI. She has recently served a 2-year term as the National Co-Chair for the Education Sector and has assisted with the Sector Conference.
Linda lives in Alberton with her husband Bruce and enjoys life in the rural setting with family and friends.

Recording Secretary: Katie Morriscey – kamorriscey@gmail.com
Katie works in the Registrar's Office at the University of Prince Edward Island. She has been a member of local 1870 since 2009. At the local level, she has sat as Trustee, Recording Secretary, and Secretary-Treasurer. She has been the Recording Secretary for CUPE PEI since 2016. She has sat on the National Childcare Working Group for CUPE, as well as a member of the 2017 National Convention Constitution Amendments committee, as the CUPE seat on the PEI Federation of Labour board, and various other committees. Katie lives in Cornwall with her husband, their son, and their 4 animals!
Education East: Karla Carnegie - MacDonald kcarnegie83@hotmail.com
I am from Scotland and moved to PEI in 2009, I now live in Montague with my Husband, two daughters and dog. I work as an Educational Assistant at Montague Consolidated School.I have been involved in CUPE since May 2017 when I was honoured to become Area East VP for CUPE Local 3260. It was a real eye-opener into our union and after my first CUPE National Convention in Toronto that same year, I was hooked!! Since that first experience, I have sat on a variety of committees within my Local, including Health and Safety, Education, Labour Management and Unite For Fairness (now called Membership Engagement). I was also interested in learning more about how our union is involved at a provincial level, so I became the Education East Representative on the board of CUPE PEI in 2018. Being part of the board has given me more opportunities to get involved in CUPE in other provinces, by attending conventions, participating in protest marches, and meeting members out with PEI. Although I am young in my CUPE career, I intend to broaden my knowledge and experiences whenever possible. I plan to contribute to this great union for many more years.
Health East: Bobby Kennedy – bobbkenn@hotmail.com
My name is Bobby Kennedy. I was elected to the division in 2015 as Eastern health rep. I am the Vice President of Local 805. I also am a member facilitator for CUPE. I enjoy my seat on division working alongside some great activists for our great union and look forward to doing so in the future.
UPEI 1870 and 501 Security Police: Tracy Carmichael – tcarmichael@upei.ca
• Has been a member of CUPE since 2008
• Has been on the Executive since 2010.
• Have held Recording Secretary and President positions
• Has attended multiple National Conventions and Sector Council conference
• Attended the Bargaining Conference
• Took the CUPE Ombudsperson training and the Strike Preparation course
• Have sat on the National Post-Secondary Task Force for 3 terms. One term I was a co-chair.
• Have attended multiple CUPE PEI Division conventions
• Have been a member on CUPE PEI Division board for 2 terms
Municipalities: Charlottetown & Summerside, Municipal Police: Pauline Gass - pgass171@hotmail.com
Hello, my name is Pauline Gass. I have been a proud CUPE member since July 2003, Local 830. For the last 16-yrs, I have been working with the Charlottetown Water & Sewer Utility as an Operations Clerk. While being with Local 830, I have been the Recording Secretary, Treasurer, Trustee, and now the President. I am the first female president of Local 830, which is a male dominate workforce. I have been on the Women's Committee, Privatization Committee, Literacy Committee, Environment Committee, and I am the Municipal Sector Division Representative.
I have been a single mother since 1995 after my late husband passed away. I have an adult son, Brad, who I am extremely proud of. People often tell me that I did it right with him. I had lots of support from my family and friends. I went back to school and received a diploma in Accounting & Executive Secretary. I have been volunteering with the QMJHL since 2003 when they came to Charlottetown (PEI Rocket then and now Charlottetown Islanders). I love volunteering. I currently chair the City's Social Fund. I am the oldest of 4 children (there are 2 girls & 2 boys). I grew up and went to school in Charlottetown.
Committees
CUPE Members have the opportunity to sit on Provincial and National Communities. The work of these committees is very valuable to the work of CUPE. They provide an opportunity for engagement and also help us steer important initiatives and projects.
To sit on a National Committee, you must be elected to do so. However, if you are interested in joining, proposing ideas or volunteering with a Provincial Committee, reach out to us at cupepei@gmail.com !
National Committees
Aboriginal Council
Advisory Committee on Pensions
Child Care Working Group
Contracting out and Privatization
Environment
Global Justice
Health and Safety
Health Care Issues
Library Workers
Literacy Working Group
Persons with Disabilities
Pink Triangle
Political Action
Post-Secondary Task Force
Rainbow
Transportation
Women's
Young Workers
Pension Issues: Leonard Gallant (1779)
PR Fund
PEI Bursary Committee
Contracting out and Privatization
Equality
Literacy
Environment
Global Justice
Occupational Health and Safety
Women's
Young Workers
Ad Hoc Committees
Planning and Priorities
Finance Committee
About CUPE PEI
The Canadian Union of Public Employees (CUPE), Prince Edward Island Division has been formed in order to improve and maintain the social, economic and general welfare of its members, workers and retired workers. We stand to defend and add the civil rights and liberties of workers in the public service and to preserve the rights and freedoms of democratic trade unions.
CUPE PEI represents over 3300 members on the Island in many sectors such as municipalities, healthcare, long term care, K-12 education and post-secondary education.
CUPE PEI is involved in promoting suitable legislative measures within PEI to further the interest, aims and objectives of CUPE members, as well as promoting the maximum participation of locals in the Canadian Labour Congress and the PEI Federation of Labour.
CUPE PEI also assists in the organization of unorganized workers generally, and public employees in particular. We actively promote educational, legislative and social action for lasting improvements for workers.
Unionize Your Workplace
Throughout Canada, workers have the right to join a union and choose a union to represent them when dealing with their employer.
[caption id="attachment_2565" align="alignright" width="544"]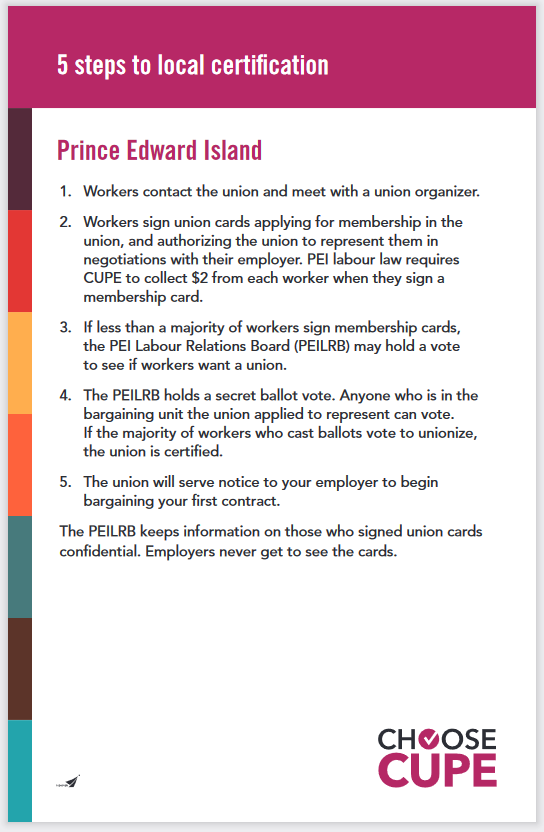 Stacy Delaney, the CUPE organizer on our Island, is available by email at sdelaney@cupe.ca and by phone at 902-315-4366.[/caption]
If you work in the PEI public sector, but do not benefit from the protection and strength that a union offers, call or email us. Our CUPE union organizer will talk you to help you organize a union in your workplace.
Stacy Delaney, the CUPE organizer on our Island, is available by email at sdelaney@cupe.ca and by phone at 902-315-4366.
In CUPE the members are in charge. Each CUPE local decides its priorities for bargaining, when to settle a new contract, and how to manage funds. Together we maintain and improve wages and benefits, improve health and safety conditions, and make your workplace better.